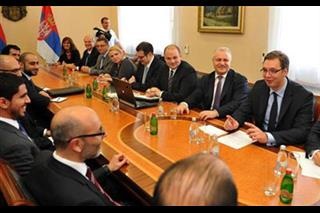 Biggest investments in Central and Eastern Europe
Following Etihad Airways' acquisition of a 49 percent stake in the Serbian national carrier, Abu Dhabi investment fund Mubadala is among a number of UAE companies in talks to help boost trade and investment between the UAE and Serbia to nearly $3bn.
Etihad announced last week it had bought a 49 percent of Serbian air carrier Jat Airways, which has been rebranded as Air Serbia, and would invest up to $100m into new company.
It is aiming to make a plans for state businesses, drugs company Galenika and the Zelezara Smederevo steel mill.
These are new evidences of fast growing cooperation between two countries. The ties between the two countries will be solidified in new steps in diplomatic relations by setting up embassies in each other's capital cities.
Deputy Prime minister Aleksandar Vucic previously announced Mubadala may also put "about US$4bn" into Serbia in the coming years and confirmed the investment vehicle was one of a number of companies in active talks with the Belgrade government.
Spotted among the Abu Dhabi delegation in Belgrade attending meetings on the sidelines of the Etihad deal was Mubadala Development chief operating officer Waleed Al Mokarrab Al Muhairi.
In addition to the talks with Mubadala, which Vucic said will focus on the semiconductor chip factory, energy renewables, property, aerospace and telecommunications, a number of deals have already been finalised.
Abu Dhabi's Al Dahra Agriculture is to invest $800m in Serbian agriculture through a $400m loan from the UAE Development Fund and a $400m deal to buy eight Serbian farming companies to grow and process food and fodder for export.
"Also the Royal Bank of the Gulf, owned by Sheikh Hamed bin Zayed, is approaching the Central Bank and will be the first Emirati bank in this part of Europe," said Serbian minister of finance Mladjan Dinkic. "The name of the bank here will be different but the owner will not be different. They have already appointed a CEO and are applying the papers for the licence. This is good as this bank will support companies coming to Serbia."
The Serbian government will give full backing to the projects with the aim of speeding up the process of cooperation in the IT sector, confirmed Serbian Deputy Prime minister Aleksandar Vucic.