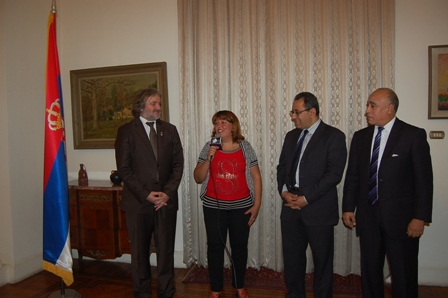 On the occasion of granting a scholarships within the Project "World in Serbia" to Egyptian candidate Mrs. Phepy Gamil Anwar Dawod, Assistant Teacher at the Department of Biochemistry, Faculty of Medicine, Ain Shams University, as wеll as Palestinian candidates Mr. Bayan Asha and Mrs. Fadwa Saqer, Ambassador of the Republic of Serbia H.E. Mr. Dragan Bisenic hosted an Award Ceremony followed by reception, in his Residency on November 13th, 2014.
The Ceremony was attended by distinguished governmental officials from the Ministry of Higher Education of Egypt, Ministry of Culture of Egypt and the Embassy of Palestine in Cairo as well as representatives from the fields of intellectual, artistic and media societies.
The Project "World in Serbia" is aimed to the students from the member states and observer states of the Non-aligned movement.
Bearing in mind the decades-old friendship between Serbia and Egypt as well as Serbia and Palestine, the Republic of Serbia invites the Arab Republic of Egypt and Palestine to propose their outstanding young people to study in the Republic of Serbia, every academic year, starting in September 2010. More than a dozen Egyptian and Palestine students have improved their specialization in their chosen area since then.