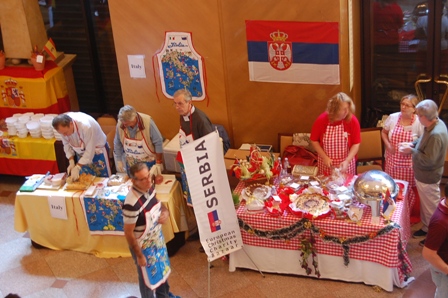 Embassy of the Republic of Serbia participated with a great success at the traditional European Christmas Charity Bazaar, which was held at Cairo on 6th of December, 2014.
Embassy of the Republic of Serbia in Cairo presented this year Serbian national products, food and drinks, as well as, national cuisine. For visitors touristic and other informative materials about Serbia were available at our stand.
Appearance of the Embassy of Republic of Serbia was helped by numerous Serbian companies and individuals: "Jomil" - Belgrade, INSA - Belgrade, JU Keops - Kraljevo, "Dan Graf" - Belgrade. "Agent Plus" - Belgrade, "Zlatiborac" - Belgrade, winery "Zaric" - Ivanjica, wineries: "Toplicki Vinogradi" and Momir Kovacevic, "Mackov Podrum" - Irig, "Stemina" - Trstenik, "Braca Rajkovic" - Aleksandrovac, "Radosevic" - Banostor, "Cokot" - Zupa. "Janko" - Smederevo, as well as, Djordje Jankovic, Goran Aleksic, Rade Veljkovic and Miroslav Milic.
Income made from entry tickets sale, tombola, presents and donations will be donated to the humanitarian organizations in Egypt, particularly to those for childcare and to those helping women and elderly.
Embassy of the Republic of Serbia continuously and actively participates in this manifestation and with help of companies from Serbia and assistance of Embassy staff and their families, Embassy's contribution is multiplied.