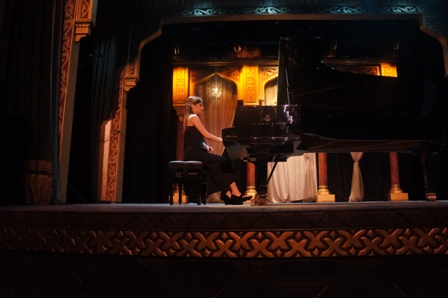 Within the framework of celebration of the National Day of the Republic of Serbia, Embassy of Serbia in cooperation with Cairo opera House organized concert of Serbian pianist Lenka Petrovic. Concert was organized in monumental building of Arab Music Institute on February 8th. Concert was followed by the reception held in the Residence of Serbian Ambassador in Zamalek.
Numerous audiences have had the opportunity to enjoy excellent performing of the compositions of J. S. Bach, M. Clementi, R. Schumann, F. Liszt, G. Ligeti.
The reception which Ambassador Dragan Bisenic hosted in his Residency was attended by numerous guests, such as Egyptian high officials, members of the Diplomatic and Military Diplomatic Corps, representatives from the fields of intellectual, politics, business, artistic and media societies as well as the Serbian community in Cairo.
Following day, on February 9th, the same event was organized in Alexandria Opera House with the attendance of the Alexandria governorate, representatives of Consular and Diplomatic corps in Alexandria and many others domestic dignitaries.