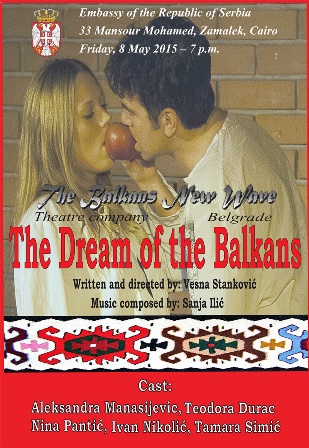 The Embassy of the Republic of Serbia in Cairo marked the 70th years of the outbreak of the Second World War by hosting musical performances "The Dream of the Balkans" given by the Serbian Theatre Company "The Balkans New Wave", held at the Ambassador's Residency on 8th of May 2015.
During commemorative ceremony, the Ambassador Dragan Bisenic expressed eternal gratitude toward Serbian heroism and sacrifice during the Second World War.
The same evening after the performance, the Ambassador hosted in his Residency a reception attended by numerous guests, such as Egyptian high officials, members of the Diplomatic and Military Diplomatic Corps, representatives from the fields of intellectual, politics, business, artistic and media societies as well as the Serbian community in Cairo.
The musical play "Dream of the Balkans", inspired by traditional Serbian culture as well the myths, legends, beliefs and other spiritual customs of Balkan region, also was performed on May 5th, 2015 in the scope of Alexandria International Festival for Contemporary Theater which was held from 2nd to 7th of May 2015.