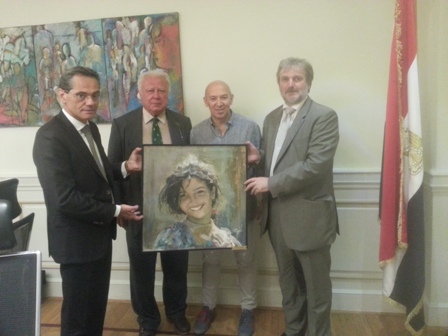 HE Ambassador Dragan Bisenić handed over first award painting from this year competition of young artists to Alexbank CEO Mr Dante Campioni as a sign of gratitude for long standing support of Alexbank to cultural manifestations of the Serbian Embassy.
In this year competition organized by the Embassy of Serbia in cooperation with Helwan Universitu, Facultu for Art Education in Cairo, 100 participants applied with more than 150 artworks. General sponsor of this manifestation for the third time in row was Alexbank local branch of Intesa San Paolo Group.
Competition was endorsed by both The Egyptian Ministry for High Education and Ministry of Culture.
During the conversation between HE Ambassador Bisenić and the Bank management comprised of current CEO Mr Dante Campioni, President of the Board of Directors Mr. Mauricio Baraco, and ex CEO Roberto Verceli future cooperation was stipulated and changes in the incoming competition were introduced regarding the learning of Serbian and Italian culture by the prospective Egyptian young artists.