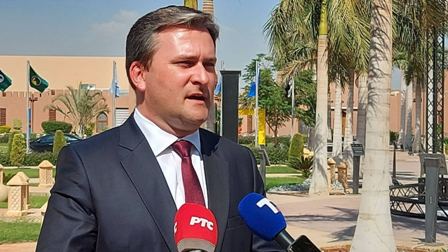 The Minister of Foreign Affairs of Serbia, Nikola Selaković, stated today that our delegation had an extremely successful two-day visit to the Arab Republic of Egypt, a sincere and true friendly reception, and announced the intensification of political and economic cooperation with that African country.
Summarizing the results of the visit, Minister Selaković said that all meetings with Egyptian officials were exceptional, from the first meeting with Egyptian President Abdel Fattah El-Sisi, for whom he stated is a great leader, a serious statesman and a man whose policy and vision have a strength which the Serbian delegation could be convinced of at every step, because it is obvious that the state of Egypt is changing.
"The meeting with President El-Sisi lasted more than an hour and a half. He showed great respect for President Aleksandar Vučić, for our state of Serbia, for our delegation. In that spirit and in the light of that meeting, all other meetings took place", said the head of Serbian diplomacy, who, during his visit to Egypt, also met with his Egyptian counterpart, Sameh Hassan Shoukry, and representatives of the Joint Business Council.

Minister Selaković said that one could hear at the meetings what the transformation of Egypt has been like since President El-Sisi came to power, how patiently and diligently trust was being built between people who are members of different religions and ethnic communities and how Egypt is a country that will dominate in the future with such a vision and such a development strategy, not only politically in this part of the world, but also economically, much wider, in the Mediterranean basin and on the African continent.
"These are all reasons why we from Serbia, especially in the Ministry of Foreign Affairs, are working much harder and better on establishing even closer relations with Egypt", says Minister Selaković.
He stated that Serbia's political relations with Egypt are at an extremely good, high level, but that our economic relations do not follow our political relations.
He reminded that at the time of the rise of the Non-Aligned Movement and Presidents Josip Broz Tito and Gamal Abdel Nasser, the economic exchange between the former Yugoslavia and Egypt was several tens of times higher than it is today.
He reminded that the factory "Zastava" used to export its cars to Egypt, that IMT and IMR together with Egyptian companies established the production of tractors, and that at that time economic and trade exchange, as well as mutual investments were at a significantly higher level.
"Today, a few decades after that period, today when Serbia is on the rise, when Serbia is transforming, when Egypt has a strong leader, but when Serbia also has a strong leader, we can do much more today and that is why I am convinced that after the visit of President El-Sisi to Serbia, after the meeting with President Vučić, a clear and strong signal will be sent to our economic communities, and that in the coming years we will have the opportunity to witness intensified economic cooperation and much greater trade and economic turnover between our two economies and states, but perhaps for the first time in many decades, joint investments as well", Minister Selaković pointed out.
He said that in the last few years, Egypt has built six completely new cities in places where there has never been a city, and almost 6,000 kilometers of new highways.
Minister Selaković said that a completely new capital is being built in Egypt, which he will have the opportunity to see before his trip to Jordan.
During his two-day official visit to Egypt, Minister Selaković also met with representatives of the Serbia-Egypt Joint Business Council, headed by Osama Salim, former Minister of Industry and Economy.
"He is a man under whose mandate 13.8 billion dollars of foreign direct investments came to Egypt, and the people who really make up the business elite of Egypt are also part of this business council of ours. We talked with them for almost three hours about the possibilities for businessmen from Egypt to invest in Serbia, but also businessmen from Serbia in Egypt. They proposed that Egypt should be one of the entry points of the Serbian economy into the territory of the African continent, which will represent a single economic and trade zone from next year", said the head of Serbian diplomacy.
Minister Selaković also met with the Deputy Grand Imam of Egypt, Muhammad Ad-Duwini, with the Pope and Patriarch of Alexandria and all Egypt from the Coptic Orthodox Church, Tawadros II, in the monastery of St. Bishoy from the 4th century.
"Incredible fantastic shrines from the time of the unity of the Christian church, where we were greeted really warmly, and we had the opportunity to talk to his holiness, to acquaint him with the situation in Serbia, to introduce him to our suffering in Kosovo and Metohija and the battle we are waging, to see one of the largest Coptic libraries in the world, but also to get acquainted with what Coptic spirituality and Coptic traditions are", Minister Selaković said.
24 August 2021