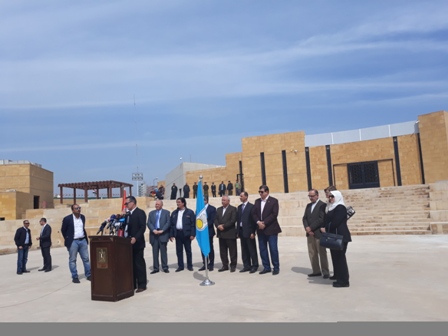 Egypt's Minister of Antiquities Khaled El-Enany and Sharqiya Governor Khaled Saeed inaugurated Saturday Tel Basta Museum in Sharqiya governorate after the completion of its restoration.
The inauguration of the museum comes within the framework of efforts by the Ministry of Antiquities to increase the archaeological and heritage awareness of Sharqiya inhabitants as well as creating more tourist attractions across Egypt.
The honor of opening the ceremony of great significance belonged to his Excellency the Ambassador of the Republic of Serbia Jugoslav Vukadinović who held a speech attended by Elham Salah, head of the Museums Sector at the Ministry of Antiquities, Waadalla Abu El-Ela, head of the Projects Sector at the Ministry of Antiquities and other numerous ambassadors. The ambassador expressed gratitude for the honor given to him, and stressed on that occasion that the heritage of Egypt doesn't belong only to Egypt but to the human civilizations.