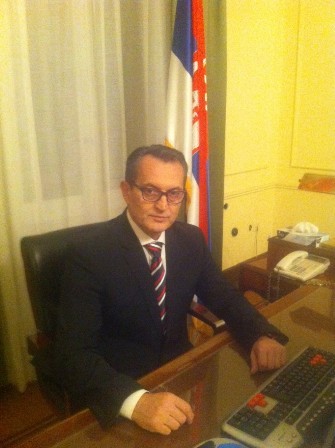 Born on 22nd of May, 1961 in Pristina, Autonomous province Kosovo and Metohija. Completed his primary and secondary education in his hometown, where he has graduated from the Faculty of Law, University of Pristina. Graduated from University of Union-Faculty for Business and Industrial Management and was awarded a Masters degree in Industrial Economic Management. He held lectures of Protocol skills at the Academy for Diplomacy and Security in Belgrade.
Speaks English(VII semester),Albanian(V semester), Greek( working proficiency),Italian( working proficiency).
Married to Mrs.Suzana Vukadinovic, has a son and a daughter, a grand-daughter and a grand-son.
Professional career
April 1995-August 1996
Federal Ministry of Foreign Affairs of the Republic of Yugoslavia
Department for neighboring countries- Section for Albania, Italy, Vatican, Malta and San Marino
First Secretary
August 1996-September 2000
Embassy of the Federal Republic of Yugoslavia in Skopje/Republic of Macedonia
Head of Consular section-First Secretary
October 2000-November 2001
Federal Ministry of Foreign Affairs of the Republic of Yugoslavia
Protocol department-Ceremonies and State visits-Head of section
First Counsellor
November 2001-August 2004
Consulate General of the Federal Republic of Yugoslavia/Serbia and Montenegro in Thessaloniki/Hellenic Republic
Consul General a.i.
August 2004-December 2004
Ministry of Foreign Affairs of Serbia and Montenegro
Directorate for Consular Affairs- Passport section
First Counsellor
January 2005-September 2005
Ministry of Foreign Affairs of Serbia and Montenegro
Directorate for Asia, Australia and Pacific
First Counsellor
September 2005-November 2006
Ministry of Foreign Affairs of Serbia and Montenegro/Republic of Serbia
Directorate for Archival Affairs
First Counsellor
November 2006
Ministry of Foreign Affairs of the Republic of Serbia
Minister Plenipotentiary
November 2006-September 2007
Ministry of Foreign Affairs of the Republic of Serbia
Directorate for NATO
Minister Plenipotentiary
September 2007-February 2009
Ministry of Foreign Affairs of the Republic of Serbia
Directorate for Consular Affairs- Section for inheritance and dispute settlements abroad-Head of section
Minister Plenipotentiary
February-2009-November 2013
Embassy of the Republic of Serbia in Abuja/Federal Republic of Nigeria
Deputy Head of Mission-Counsellor/First Counsellor-Charge d' affaires a.i.
November 2013-March 2016
Ministry of Foreign Affairs of the Republic of Serbia
Minister Counsellor
March 2016-September 2016
Ministry of Foreign Affairs of the Republic of Serbia
Security department- Out of hours section- Coordinator of the section
Minister Counsellor
September 2016-
Embassy of the Republic of Serbia in Cairo/Arab Republic of Egypt
Deputy Head of Mission-Minister Counsellor/Political affairs for the Sultanate of Oman( non-residential State of Palestine, Republic of Sudan and the Arab League)
October 2016
Ministry of Foreign Affairs of the Republic of Serbia
Ambassador at MFA
Ambassador Extraordinary and Plenipotentiary of the Republic of Serbia to the Arab Republic of Egypt (22nd February 2018)
Non-Residential Ambassador, Extraordinary and Plenipotentiary of the Republic of Serbia to the State of Palestine (17th December 2018)

Non-Residential Ambassador, Extraordinary and Plenipotentiary of the Republic of Serbia to Republic of the Sudan (14.01.2020.)